The Town of Black Earth is located approximately 20 miles west of Madison. The first Europeans to permanently settle here arrived in 1843.  Five years later, the Wisconsin State Legislature created the Town of Farmersville, which was later renamed to Black Earth.  Black Earth (population 491) is a rural farming community blessed with natural resources, including fertile soils and the popular Black Earth Creek.    
---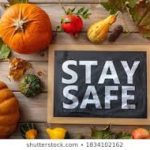 Message from Public Health Madison & Dane County
November 13, 2020
Thanksgiving celebrations must look different this year because of the COVID-19 pandemic.  Public Health Madison & Dane County strongly urges everyone to stay home and to celebrate Thanksgiving only with people you live with.  As cases and hospitalizations have been dramatically rising both locally and nationally over October and November.  Gathering for Thanksgiving, even if the gathering is small, puts our county and state at risk of overwhelming our health care system.
Celebrating Thanksgiving Safely This Year – Newsletter
Factsheet – Fall Holidays
Factsheet – Winter Holidays
---
Free Flu Shots!




Free Drive-Through Flu Clinic at Alliant Energy Center
Open to all Dane County adults and children 6 months and older,
regardless of health insurance status.

Flu Shot Clinic Information

For additional information, please see the press release on the
Public Health Madison & Dane County website.
---

Town of Black Earth
November 3, 2020, General Election
Election Results
---
Coronavirus (COVID-19) Notice
Public Health Madison & Dane County
Find info on testing, the current order, and the latest data, visit the Public Health Madison & Dane County website.
Currently, about 35% of cases do not know where they could've gotten COVID-19. Watch for symptoms like fever, cough, shortness of breath, fatigue, body aches, headache, a new loss of taste or smell, sore throat, congestion or runny nose, nausea or vomiting, and diarrhea. If you have these symptoms, call your doctor or visit our testing page for information on how to get tested.
Wear masks. Masks are required indoors, and we strongly recommend them outdoors anytime you are near others.