The Town of Black Earth is located approximately 20 miles west of Madison. The first Europeans to permanently settle here arrived in 1843.  Five years later, the Wisconsin State Legislature created the Town of Farmersville, which was later renamed to Black Earth.  Black Earth (population 491) is a rural farming community blessed with natural resources, including fertile soils and the popular Black Earth Creek.    
---
Public Health Madison & Dane County
Releases Amendment to Emergency Order
Public Health Madison & Dane County released Order #9, which goes into effect on September 2, 2020.  See our news release for more information.
The Alliant Energy Center Community Testing Site has been extended and will be open until at least October 3.
---
MAHOCKER ROAD – ROADWAY PROJECT UPDATE


Updated:  Monday, September 28, 2020
(This post is updated daily to communicate the location of work and culvert replacements.)

Boehnen's Excavating will be working to finish up ditch work this week.


Phone technicians set up a temporary line and service to each house.  If you are experiencing phone or internet connection issues, please contact the Clerk or Town Patrolman.


Temporary mailboxes are marked near Lefty Lane.  When the road work is done, the Town Patrolman will begin installing regular mailboxes.  



For UPS/FedEx package delivery:

  Delivery trucks will have limited access to the road during construction work.  Residents are encouraged to schedule the delivery of packages to another location.  The EMS building is available as a delivery location for residents during this road work – packages can then be delivered and picked up there:
        Dane County District One EMS
        316 W. Commercial St.
        Mazomanie, WI  53560
For questions or concerns, please contact:
     Town Patrolman Al Schroeder:  608-206-2003        Clerk Stephanie Zwettler:  608-444-6425
---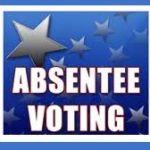 VOTING BY ABSENTEE BALLOT
Town of Black Earth
November 3, 2020, General Election 
Any qualified elector who is unable or unwilling to appear at the polling place on Tuesday, November 3, 2020, for the General Election may request to vote an absentee ballot.  A qualified elector is any U.S. Citizen, who will be 18 years of age or older on election day, who has resided in the ward or municipality where he or she wishes to vote for at least 28 days before the election.  The elector must also be registered in order to receive an absentee ballot.  Proof of identification must be provided before an absentee ballot may be issued.
To request an absentee ballot, please contact your municipal clerk:

* Your absentee ballot request must be in writing, whether it be by email, letter, filling out the absentee ballot request form, or online at MyVote.wi.gov.  Your written request must list your name, voting address within the municipality where you wish to vote, the address where the absentee ballot should be sent, if different, and the date of the election(s) you are requesting your ballot for.  You must also provide your photo ID.
TO RECEIVE AN ABSENTEE BALLOT BY MAIL:
The deadline for making an application to vote absentee by mail is 5:00 PM on the fifth day before the election:  Thursday, October 29, 2020.
VOTING AN ABSENTEE BALLOT IN-PERSON:
You may also request and vote an absentee ballot in the clerk's office during the specified hours or by appointment.  You must also provide your Photo ID.
The first day to vote an absentee ballot in the clerk's office:  8:00 AM, Tues., October 20, 2020.

The last day to vote an absentee ballot in the clerk's office:  5:00 PM, Fri., October 30, 2020. 
          No in-person absentee voting may occur on the day before the election.
The municipal clerk will deliver all voted ballots returned on or before Election Day to the proper polling place before the polls close on November 3, 2020.  Any ballots received after the polls close at 8:00 PM will not be counted.
To obtain an absentee ballot send a written request to: 
Town of Black Earth 
Stephanie Zwettler, Clerk
PO Box 426
Black Earth, WI  53515
townofblackearthclerk@gmail.com                        
Office hours:  Tues 8:00 AM -12:00 PM – in the lower level of 1116 Mills St.
In-person Absentee Voting by Appointment 
Tel:  608-444-6425 / Email:  townofblackearthclerk@gmail.com
Type E ABSENTEE BALLOT Notice-General Election 2020